Art Portal, GraphicsFlow Tips, Sales & Marketing Tips
09 May, 2022
3 Useful Ways to Keep Your Customers From Printing Their Custom Merch Elsewhere
09 May, 2022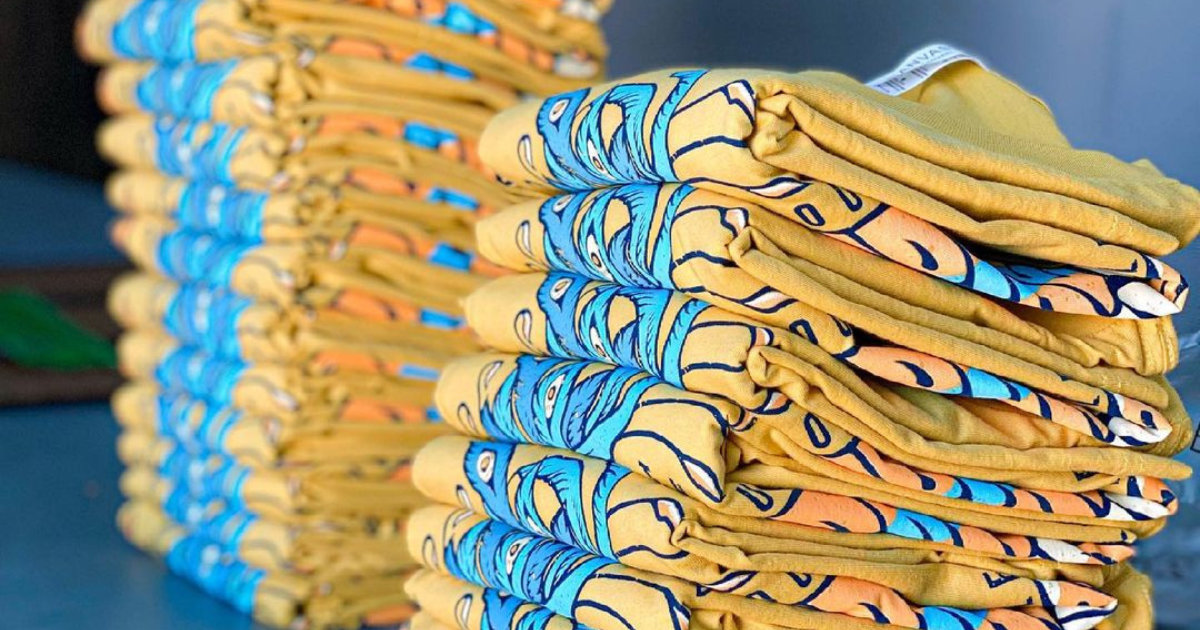 Bottom Line Up Front: Your customers may come to you with design ideas they found on other websites. Find out how to curb that trend and give your customers better tools for design creation.
Having a customer go to the competition is never a good feeling. Especially if it's a massive online print house that has the capacity and technology to design and print more merch at a faster speed than the average print shop.
Sometimes those businesses can also offer customers much bigger price breaks than your business can afford. Even worse, customers might design their artwork with that other business's tools, bring you the idea, and then go with the other company anyway. That costs you and your team time and money.
Here are a few ways to keep those customers from going elsewhere for their artwork and merch needs:
Skip the screenshots
How often has your customer come to you with a screen capture from another website where they put together a rough design idea? You take that pixelated, unscalable image and rework it into a useable graphic that you and your team can print onto apparel and promo goods.
You can get ahead of this situation by offering your customers a better solution from the start of the conversation by using GraphicsFlow Art Portal. Art Portal is an industry-first tool that turns a massive catalog of 25,000-plus art designs public-facing. That means your customers can browse and choose from the same extensive sets of graphics inside your shop's platform. And best of all, all you need to do is copy and paste an embed code onto your site so that customers can access the catalog.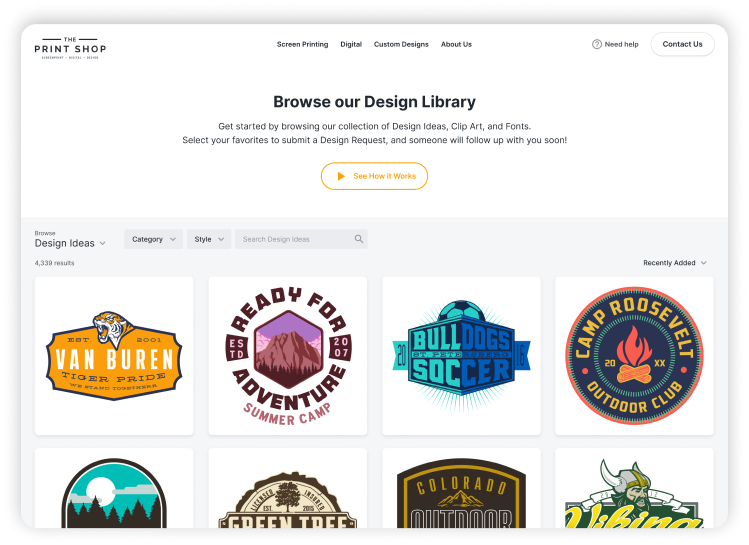 Whether you embed it on your website or use it as your main site, you can use Art Portal to give your customers thousands of customizable and production-ready design ideas. Plus, all of the graphics inside the GraphicsFlow Art Library are scalable, so you can change the size of the artwork without having to worry about pixelation.
And here's why you REALLY need to ditch those screenshots.
While reworking a screenshot for a customer's design idea is simply inconvenient and time-consuming for your art department, it's also a slippery slope if they're using another website and service to create their designs. Suppose they're on that website every time they need a new design. There's a very good chance they'll eventually just stay on that provider's site and opt in for their print services, even if the quality isn't as good as your shop. That's because when it comes to e-commerce, most shoppers want the easiest and fastest solution. So if they can get a quote for their print job in the same place they built the design, they're more apt just to go that route.

You don't necessarily have to turn a customer down who brings you a screenshot. Still, you can direct them to your Art Portal once you've established what they're looking for and show them how easy it is to set up a design request.
Focus on quality of service over price matching
While some bigger sites offer a convenient solution and highly competitive prices, going for the lowest price isn't always the smartest option for printed merch. And you can show that to customers with the quality of service you provide them. GraphicsFlow helps enhance that strategy with a few different tools:
Art Approvals: Through the GraphicsFlow Art Approvals workspace, your customers have a simple, fast way to review your art mockups with any notes you need to provide them. They can quickly respond to the approval with any questions or notes they might have. That simple, fluid communication makes things easier for your customers and your team since everything stays organized inside GraphicsFlow. Plus, if your customer is happy with the mockup, all they need to do is hit "Approve," and you're ready to move ahead with the order. And unlike the experience they'll have with some bigger websites, they benefit from a team who responds quickly, can make changes to a design, and answer any detailed questions about a design without keeping that customer waiting too long.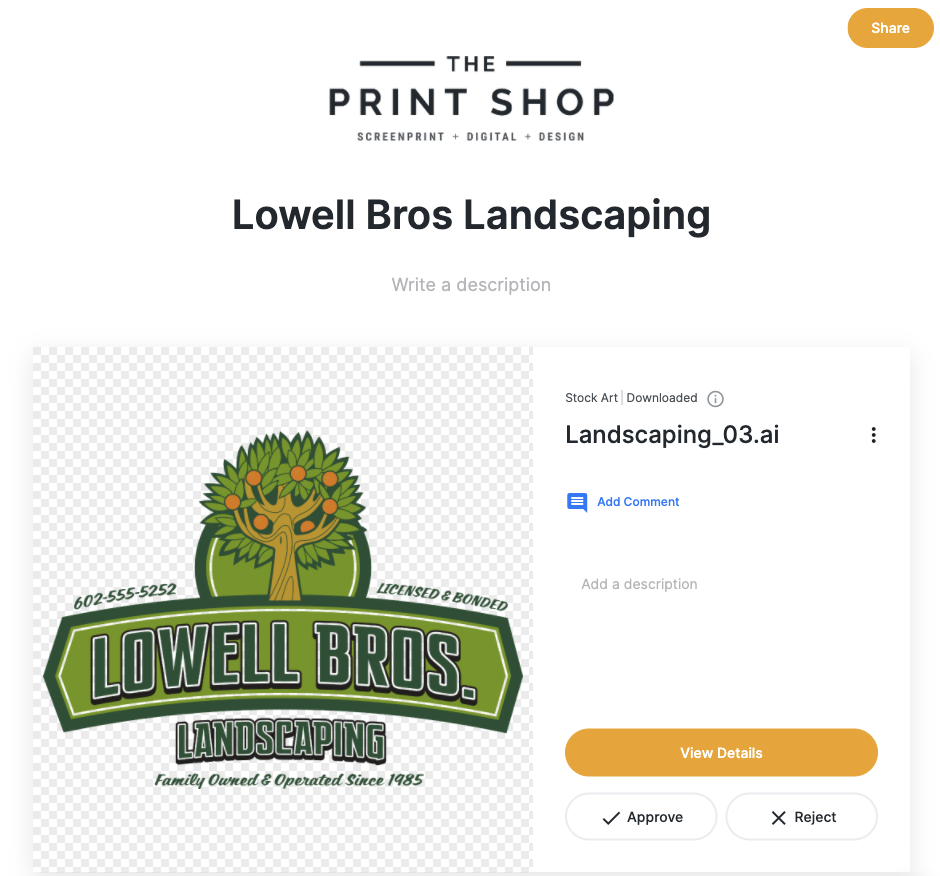 Better art options: The quality of the design ideas, fonts, and graphics inside the GraphicsFlow Art Portal library is explicitly built for the custom branded merch industry. That means you'll get top-notch art elements for your customers' jobs that aren't generic clip art or random stock art that needs to be tweaked to work for printing. The GraphicsFlow art library is also updated regularly with a monthly design drop. You'll always have new elements to offer your customers.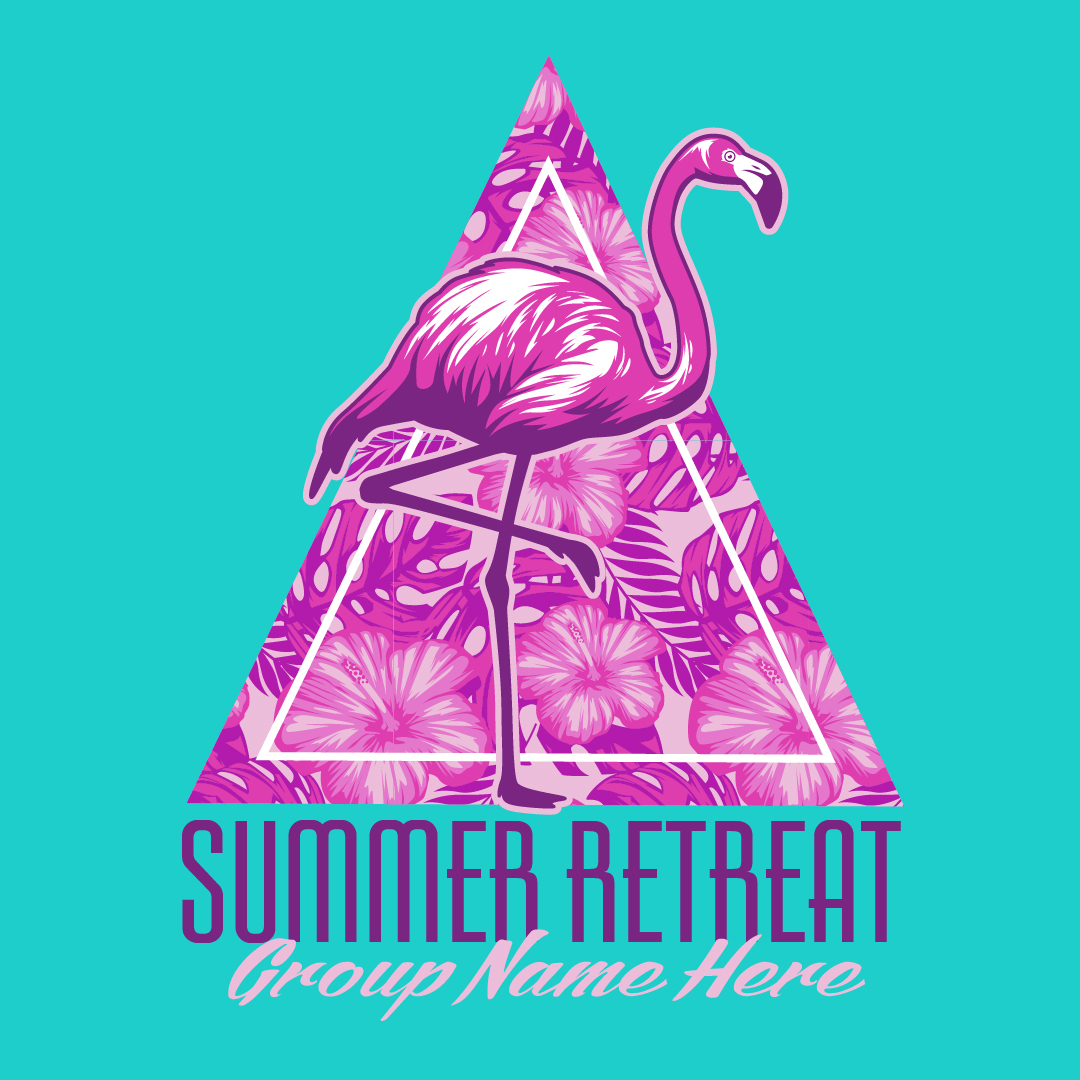 Easy navigation: Best of all, art is categorized inside the Art Portal so customers can track down exactly what they need without spending extra time hunting around and getting frustrated. Art Portal helps shops stand out in the crowded online marketplace because it's a convenient tool for your customers.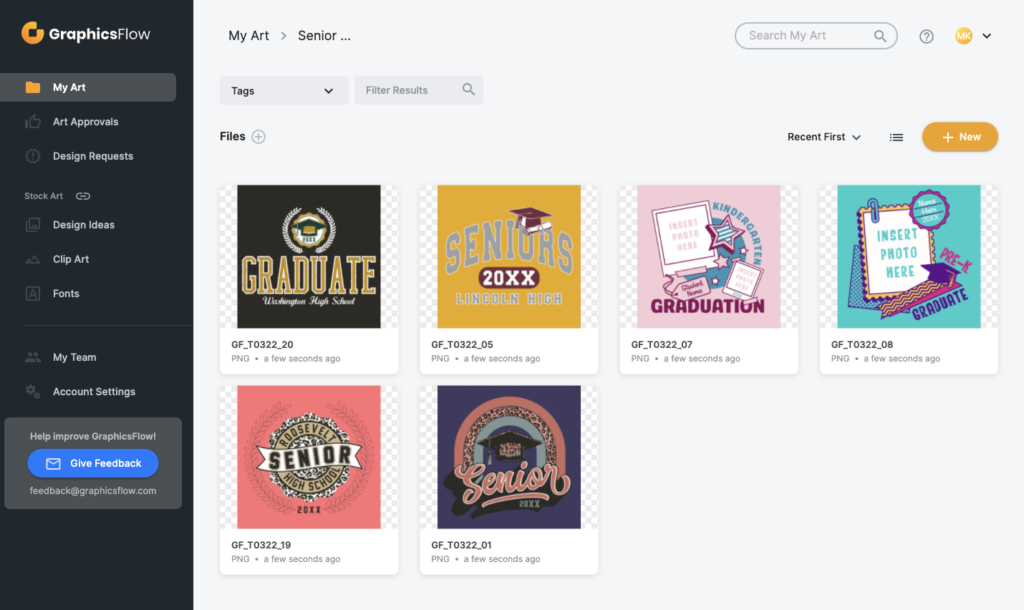 They can filter searches by clip art, designs, fonts, categories, and styles to select the best fitting graphics for their job. After choosing designs, they simply send a design request directly to your shop via the portal.
Focus on the add-ons
You can use the vector-based, production-ready nature of the artwork in GraphicsFlow to expand every customer order. Since those graphics work across all decoration methods, you can take your customer's approved design and suggest accompanying products to their existing order. So if you're doing designs for a T-shirt, a few common examples would be:
Baseball caps
Socks
Shorts
Water bottles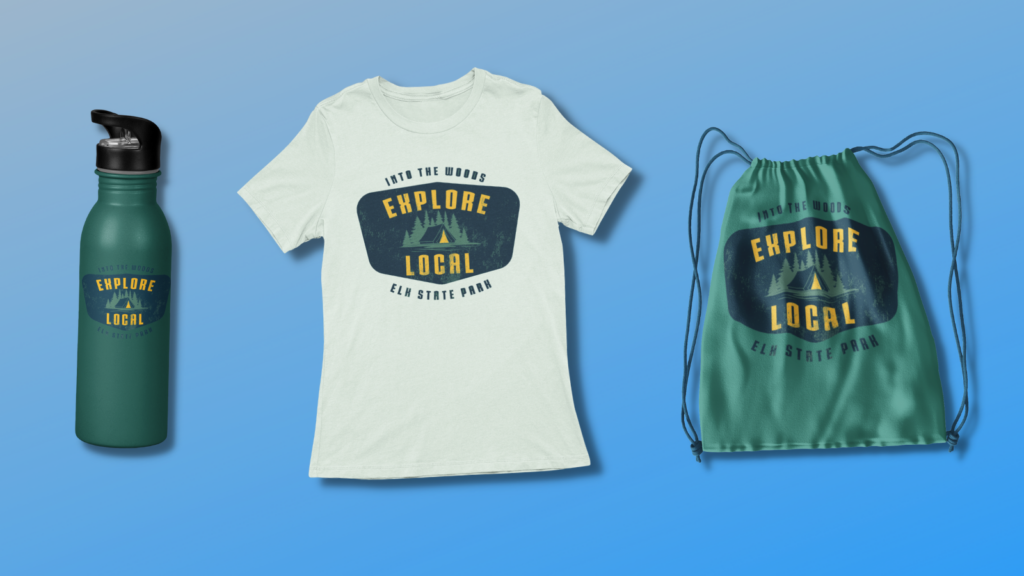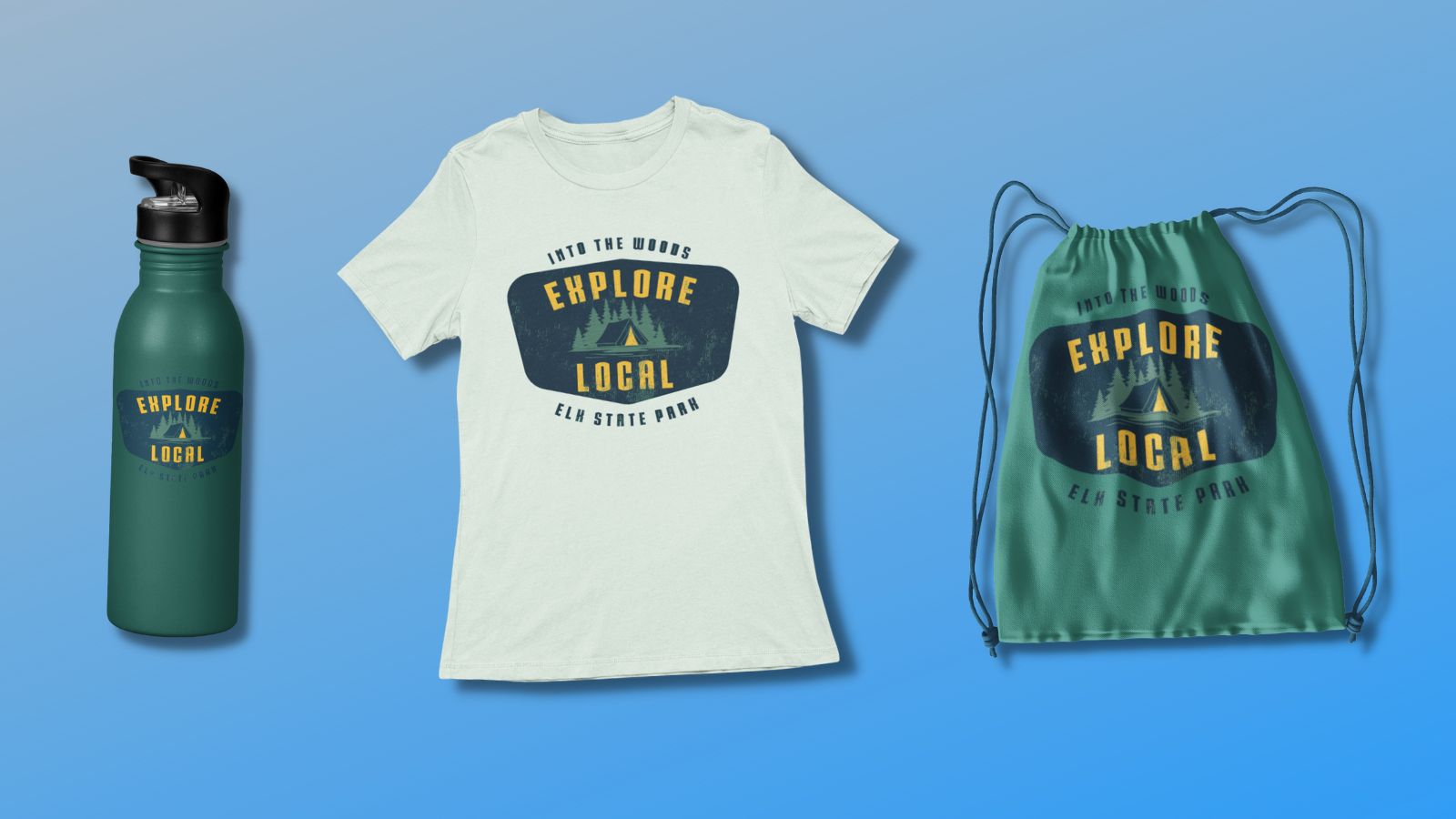 Depending on your shop's services, you can take that powerhouse art collection and give your customer an expanded order that combines items like screen printed, embroidered, and heat-printed goods all in one package. All without having to do any significant reworking of the customer's design before printing it on the upsell items.
Adding a personal touch
Trying to compete with the large online print houses isn't a good use of your shop's time. Meanwhile, using the tools discussed above can put your business in a better position. Plus, if you're able to respond to emails promptly and pick up phone calls to answer customer questions when they come in, you'll already be one step ahead with a personal touch that shows you're a business that cares about the products it's printing. With your printing skills, decoration expertise, and powerful tools like GraphicsFlow Art Portal, you'll have a lot to offer customers who want high-quality merch with trendy designs.
Ready to step up how you deliver for your customers with tools like Art Approvals and Art Portal? Contact a Client Advisor today for a personalized 15-minute tour. Fifteen minutes can change your business.
Not ready? Test drive the Art Portal and submit a sample design. See for yourself the potential of Art Portal for your business.
Take the Next Step
Get organized, remove the art department bottlenecks, and boost your graphics productivity today.
Book a Personalized Tour
Related Posts: