Customer Success, GraphicsFlow Tips, Sales & Marketing Tips
23 May, 2022
Customer Success Story: Digital Creations
23 May, 2022
Bottom Line Up Front: Learn how Digital Creations combined the power of GraphicsFlow's art library and InkSoft Stores to wow their customers and grow their business.
What do the International Space Station, the TV show Dallas, and South Africa have in common? On the surface, not really anything, but when you talk with Derek North, owner of Digital Creations, there's a through-line with all three. Originally from South Africa, Derek didn't start printing decorated apparel and promo goods until he got to the U.S. Before that, he ran a forklift truck company in his home country.
When Derek and his wife arrived in the States, they weren't sure what kind of business they would get involved in. They ultimately decided to get into sublimation and heat transfer vinyl, intrigued by the sheer amount of printable products with both techniques. The couple started a home-based business decorating common goods like coffee mugs and T-shirts out of their garage in their new home state of Texas. The company gradually started building up its reputation, printing goods for local customers and some regional clients in Houston.
Derek says one of the first big highlights was a customer in Houston who ordered a batch of T-shirts and coffee mugs. The mugs, he says, eventually ended up being sent to the International Space Station.
"That really got me excited because now I could tell people our coffee mugs were literally out of this world," states Derek.
But sending coffee mugs out into the cosmos wasn't the last big stop for Digital Creations. Derek had other designs on getting the company's name out there.
TV connection
While it might not be the most famous TV show now, the soap drama Dallas was a major television hit in the 1980s, and Derek says that was especially true in South Africa.
"Dallas aired in South Africa on a Tuesday night," he says. "Once it came on, the streets were empty. When Dallas was on, nobody was out. Everybody was at their TVs."
Once he was settled into Texas life, Derek decided to visit Southfork Ranch, the filming location for large parts of the show. Upon visiting the gift shop, Derek noticed the array of merchandise for sale and saw a great opportunity. He got the information of the shop's merchandise buyer and shipped them a few sample products to pitch Digital Creations as a potential printer for gift shop products. Shortly after, Derek says he heard back from the buyers, who were impressed with the quality of his work. Since then, Digital Creations has printed goods like coffee mugs and mouse pads for the shop.
Moving upward and onward
Since sending mugs to space and drumming up souvenirs for Dallas fans, Digital Creations has expanded its offerings and dabbled in a few decorated apparel markets. Around 2015, Derek says the business started printing uniforms for charter schools and contracting out embroidery. But since the uniform programs had mixed profits and split sales with the schools, he decided to keep exploring other markets where they could make better revenue.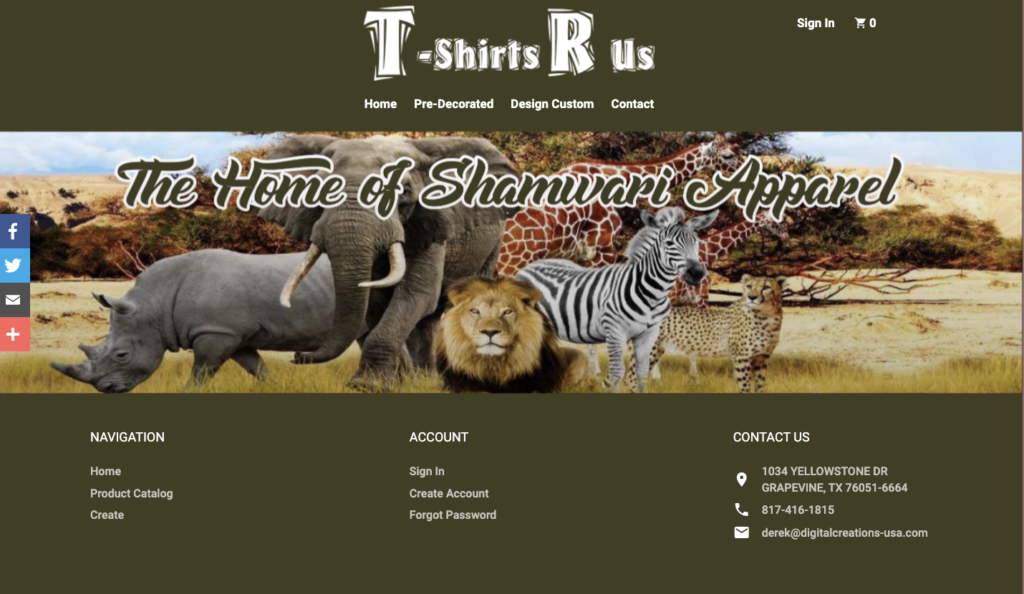 Now, the business taps into even more revenue with the events, non-profit, and promo products markets. Derek says he's been able to crack all these markets with the powerful combination of InkSoft Stores and GraphicsFlow's art library.
Derek says that having an easy solution for customer webstores and running his business operations has helped Digital Creations stay nimble and continue serving customers without extra downtime. And, the ease of use with the stores gives him valuable time back to focus on printing more products.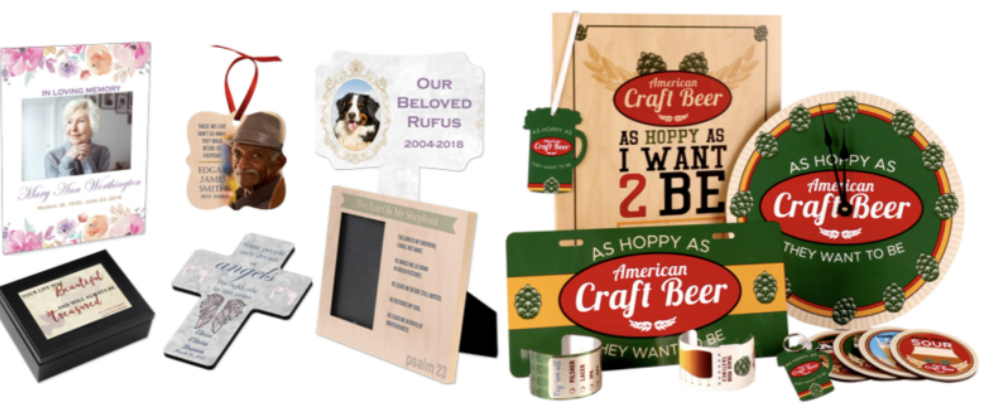 "I'm the floor sweeper, the bottle washer, and I do all the designing and printing," he explains. "My wife takes care of the weeding for the heat transfer vinyl, so we don't have a lot of extra time."
For both InkSoft and GraphicsFlow, he points to the level of support available as a huge reason he likes both platforms for running his business.

"There's always somebody you can call on when you need something," Derek says.
With GraphicsFlow, he's also been able to get ahead of the learning curve with educational videos and classes in between printing jobs for his customers.
"And the tools inside GraphicsFlow have also helped boost Digital Creations' reputation on the customer side," Derek says.
Better presentations
Derek says he typically does mockups for customers via email attachments like most shops. Now, he's been using GraphicsFlow Art Approvals to streamline the process. Often he'll start by determining the design based on what type of decoration the customer wants. If it's sublimation, he can offer a more complicated design. If it's heat transfers, it'll be simpler designs.

From there, Derek says he'll browse through the GraphicsFlow art library to find ideas. He says he's experimented with swapping out different lettering from various design ideas, adding it to a template, and customizing it based on the customer's needs. It's given him more resources to create artwork and made a great impression on customers.
"Everyone comes back and tells me my designs are unbelievable," he says. "When it comes to dealing with other businesses, presentation is the only judge they have of your work."
Through Art Approvals, Derek says he can make that indelible first impression that secures customers and helps spread his reputation via word of mouth. He estimates that his business has increased 25% with first-time customers this year.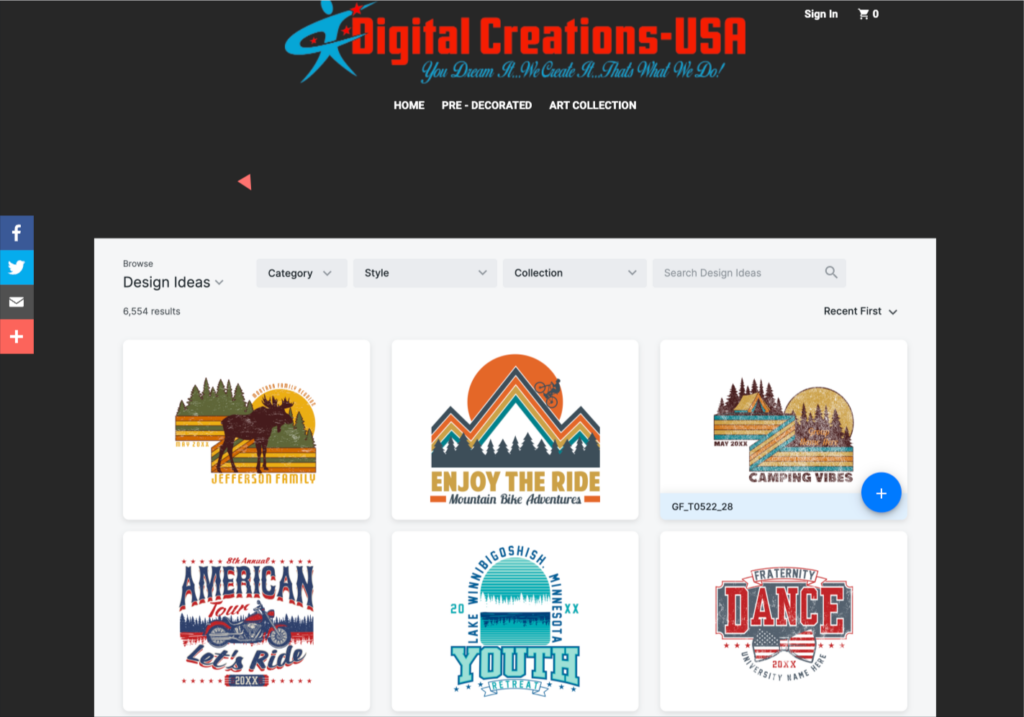 And while Digital Creations has the GraphicsFlow Art Portal up on their site for online shoppers, Derek says he also uses the tool with walk-in customers. They'll chat with customers about what they're looking for in a design, provide them with the link, and recommend they browse the Art Portal's catalog for inspiration. Derek says customers send him their ideas, and they move ahead to mockups.
Always moving
With the success Digital Creations has had using InkSoft Online Stores and GraphicsFlow, Derek says he aims to keep pushing forward with both platforms. One benefit he's hoping to highlight for his customers' stores is their ability to easily swap out products every few weeks to give buyers more variety in what they can purchase online.
Derek also encourages other print shops to consider the high-quality presentation factor if they contemplate signing up for GraphicsFlow.

"When I looked at what I've sent to customers with Art Approvals, I think to myself, 'what a professional-looking presentation,'" he states. "When your presentation is that good, your customers will also know that the quality of your work is also going to be good."

With that emphasis on quality and top-notch workmanship, maybe Derek's custom-printed merch will even reach Mars someday.
Learn more about Digital Creations here.
Take the Next Step
Get organized, remove the art department bottlenecks, and boost your graphics productivity today.
Book a Personalized Tour
Related Posts: