Customer Success
04 November, 2022
Customer Success Story: RAM Specialty Products
04 November, 2022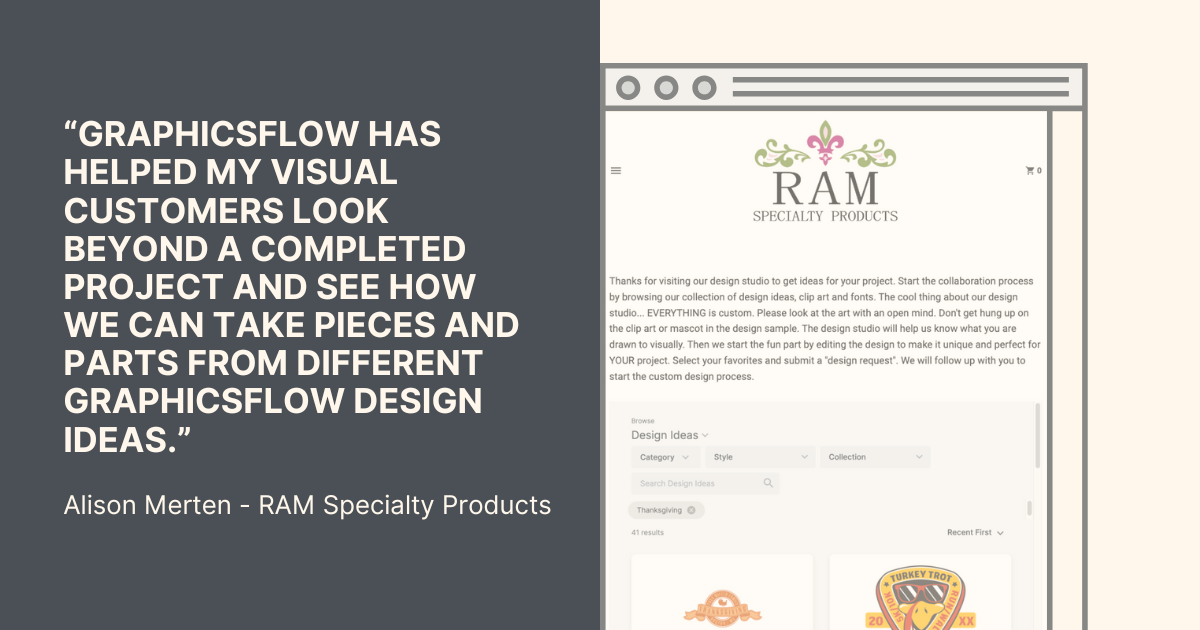 Location: Cypress, Texas
Services: embroidery, screen printing, digital printing, heat apply, vinyl, promotional products, and personalized gifts
Customer base: Local and regional
Biggest Challenges:
Communicating design ideas to the design department at their contracted screen printer.
Promoting design ideas to school teams and groups.
How GraphicsFlow Helped:
Gave the business production-ready graphics they could build designs with and reduce the back-and-forth with the screen printing company.
Helped the business add more value to print jobs for school clients, including a school supply package and a team spirit shirt during lockdown.
Big Milestones:
Doubled business the last two years.
Helped a local school sell more than 800 supply bundles to families by adding in a custom T-shirt.
Roughly 90% of new business is referrals from existing clients.
Reduced design mockup time to roughly 15 minutes in some instances.
Backstory: RAM Specialty Products started like many businesses, producing a few small jobs for family and friends. Alison Merten started with embroidery requests on headwear and apparel, and as her reputation grew, so did the business. As they evolved into a standalone business, Alison and her husband Richard added other services like heat transfers, personalized gifts, and screen printing with in-house and outsourced services.

One of the biggest revenue generators for the business, Alison says, is schools. She and her husband fill jobs for countless schools in Houston's massive school system, with about 14 high schools, each with roughly 3,000-4,000 students. To meet that tall order, she started using GraphicsFlow as a springboard for design ideas she could pitch to coaches and administrators.

By mixing and matching elements from the art library, she says she can quickly and easily get designs in front of school staff to pass those approved designs onto her outsourced screen printer. The production-ready elements of the designs in GraphicsFlow help her communicate easier to the screen printer how and what they want to be printed, reducing the steps needed to reach the printing phase.
Thanks to that fluid design and approval process in GraphicsFlow, the Houston-area schools have been a significant driver in the shop's profits, Alison says.

"I doubled business last year, and this year I've already doubled last year with about a quarter to go," she points out.
And, because of the workflow and reputation she and her husband established, 90% of the work RAM gets is based on referrals from existing customers.
Even during COVID, the duo was able to keep business going. Alison pitched a school spirit shirt to the swim team of a client who was canceling their seasonal order because of the lockdown. She built a team spirit-themed design with GraphicsFlow and pitched it to the team coaches. Even without an active swim season, Alison secured sponsors for the back of the shirts, including RAM, and got the go-ahead from school administrators.
"This team was able to make a profit without a swim team even happening," she explains. "We sold way more shirts than we ever have."
Since 2020, RAM has also grown with national and corporate clients. As a home-based business, Alison and her husband stay busy and keep it all running smoothly with GraphicsFlow's design templates while managing e-commerce with the power of InkSoft Stores.
Getting started
Schools and spiritwear have a solid connection to the custom-branded merchandise industry, especially decorated apparel. For Alison Merten, co-owner of RAM Specialty Products, that connection runs deep and has been driving a big part of her business since it moved from a side hobby to a full-time business. The name "RAM" refers to Richard (Alison's husband), Alison, and the family's last name, Merten. It's a reflection of how deep the family connection runs in their trade.
"I got into the industry by accident," Alison says. "My career started in the human resources industry, and that route led me to staffing."
After working in sales in the staffing industry for seven years, specializing in accounting and finance professionals and executives, Alison needed to reassess her work-life balance.
"After having my first child, I decided to take a step back from the hectic work schedule and worked part-time with my family's sports photography and trophy business," she says.
Getting into the industry
With her sales expertise, Alison says she was able to apply her skills immediately. During that time, she started getting a glimpse into the spiritwear and team apparel world, even though the business focused on photography and trophies.

Over the next seven years, Alison began to help team sports customers who came to the business for photography and trophies also source clothing for uniforms, spiritwear, and embroidery. Gradually, she teamed up with some contract vendors. That link was her door into the decorated apparel world.

"They encouraged me to get a small embroidery machine instead of outsourcing names on hats," she says. That marked the official start of RAM Specialty Products.
Alison continued to work with the family business as she grew her reputation with the decorated apparel services. The customer list grew extensively within three years, and RAM became a full-time business.
Starting up
With a client list that's continued to grow, RAM Specialty Products mainly works with schools, corporate clients, and faith-based organizations out of the Merten home. The business does small embroidery orders, heat-applied decoration, and dye sublimation in-house. They also partner with an outsourced shop for high-volume embroidery and screen printing.
The business has built a solid reputation in the greater Houston area for its knack for producing high-quality spiritwear orders, amongst other things.
"We may not be the cheapest game in town, but my customers get me. My company has value, and we create amazing projects," says Alison. "That comes with an elevated price tag that ultimately makes my customer look good, and that makes RAM look good."
Looking good is essential in the custom-branded merchandise world, where everything is visually-based. Alison says the business does that with top-quality customer art created from GraphicsFlow design templates and graphics. Alison says she constantly uses elements from the art library to build mockups for customers and uses them as a springboard to spring inspiration.
GraphicsFlow has also helped her clear a hurdle she previously had with customer artwork. Before GraphicsFlow, customers would bring her rough ideas from sources like Pinterest, Etsy, or sometimes licensed images. Now with Art Portal, she can direct customers to a central place where they can pull ideas and confer with her on a final mockup.
"It made my life easier," she explains. "Now I know what I'm putting out is unique, and I won't step on someone's toes in a copyright situation."
On the production side, GraphicsFlow's art elements have simplified communication with the designer at the screen printing contractor she uses. Alison says she can maintain an aesthetic that people recognize from RAM Specialty Products and simultaneously make it easier for the screen printer to prep those designs for production since all of the graphics are production-ready.
Pivoting and thriving
Alison points to February 2020 as a historic time for the company. After attending a demo at the ASI Show, she decided to start using the platform.
"And, one month later, the world shut down!" she says. "I don't know if my business would be where it is today if I didn't take the leap when I did."
With the power of GraphicsFlow and Smart Designer, Alison says she could still create mockups and do business with customers during the height of the lockdown. She estimates she only took a 15% loss of income during COVID.
She points to a job for a high school swim team as the perfect example of pivoting and creating something of value during challenging times. The team customarily ordered shirts from RAM but had to scrap their order since the season was canceled because of lockdown protocols. Alison pitched a team spirit shirt that could unify the students while waiting for things to return to normal. The coaches were enthusiastic about the idea and decided to move ahead with the order.
Typically spiritwear needs sponsors, and Alison says even with the season canceled, every single sponsor stayed a sponsor for the new shirt design, including RAM.
"This team was able to make a profit without a swim team even happening," she explains. "We sold way more shirts than we ever have."
School days
The success with the swim team was just a snapshot of how schools have been a central part of RAM's business. The business prints merchandise for several in Houston's massive district, with 14 high schools, each with about 3,000-4,000 students.

Alison says she's been able to easily pitch design ideas to school administrators by using GraphicsFlow elements. Often the initial phase is passing along a few raw elements to build inspiration, then working outward from here.
"I can look at a design concept through rose-colored glasses and visualize a final product," she explains. "GraphicsFlow has helped streamline this process and helped my visual customers look beyond a completed project and see how we can take pieces and parts from different GraphicsFlow design ideas."
"We can create something unique and different without reinventing the wheel," she adds.
Getting creative
RAM has also nurtured relationships with Houston schools by adding value to existing packages those schools offer to families. Because Houston's school district is so large, there's a diverse spread of schools ranging from the richest to the poorest, so some schools need innovative ways to support their students. Alison says the shop recently worked with a Title I school to build a school supplies package that would be affordable to students and families with lower income but still give them something that had intrinsic value. As part of the school supply pack, RAM created a school spirit shirt they could include in the bundle.
"The parents saw the value in this, a school supply pack that's about $12-15 with a full year of supplies, plus a nice shirt," she says. That particular school sold 886 pre-paid packs, around double what they'd sold the previous year before adding shirts.
RAM also prints apparel and merch for other school campaigns throughout the year, including some goods for staff and special holiday events.
"We love helping schools think of new and innovative ways to raise money," Alison adds.
Still growing
Alison says along with the positive reputation GraphicsFlow has helped enhance with schools and other clients, the amount of time savings has been one of the biggest recognizable changes she's seen since bringing on the platform.
"I can wrap up a graphic project in a short amount of time and finish my customer orders a lot quicker," she says. "We don't spend much time on art, and I'm not having to pay a graphic designer to see inside my head."
And, by the numbers, the business has also seen growth since adding GraphicsFlow. Alison says they doubled business in 2021, and in 2022 they've doubled last year's numbers with a quarter to go.
"Even with our small dip during COVID, we've seen steady growth," she notes. "It's because we're able to do more jobs. We occasionally hit points where I can't do it all, and I have to turn some stuff away. But since we've started using GraphicsFlow, I don't have to do that often."
The business still runs out of the family's house, and orders show no sign of slowing down.

"We do a lot of work in one tiny room," Alison says. She says the couple is looking forward to the coming year when Richard can retire from his current job and join her in handling the daily operations of RAM Specialty Products full-time.
Learn more about RAM Specialty Products here.
Take the Next Step
Get organized, remove the art department bottlenecks, and boost your graphics productivity today.
Book a Personalized Tour
Related Posts: