Product Updates
02 August, 2022
GraphicsFlow Product Update: Art Approval Collaborators
02 August, 2022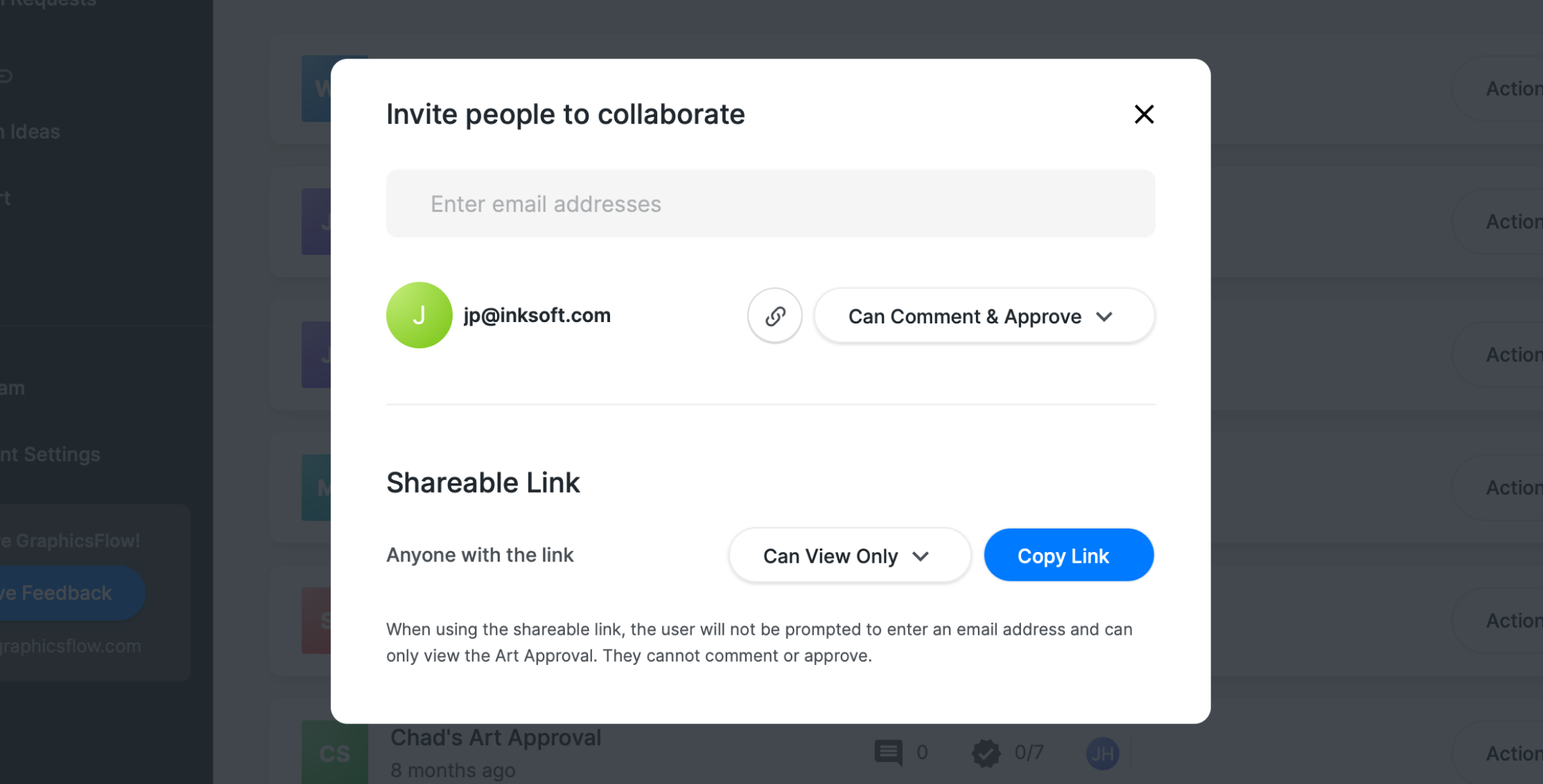 Bottom Line Up Front: Now, it's even easier to invite collaborators to comment, approve, and view art approvals and graphic presentations in GraphicsFlow. Watch the video for more information.
We're excited to share our latest update to the Art Approvals workspace in GraphicsFlow with you, designed to improve the collaboration process.
You can assign whichever permission level that's preferred when you send a presentation, including "Comment and Approve," "Comment," or "View Only," and you can also adjust that permission after you've invited the collaborators.
Check out a quick walkthrough of all the updates in this video:
You'll also notice a shareable link for each collaborator so you can share the presentation in other spots like email or Facebook messenger.
Additionally, the update includes a shareable link you can send to people without inviting them as collaborators. Like the other configurable areas in the workspace, you can toggle that link for various permissions like "Comment" or "View Only."
Along with giving you more options on how to share presentations, these latest updates give you an easy way to share a presentation of a graphics collection if you're pitching ideas to a new customer as a "View Only" link, giving you the ability to create a "virtual catalog." So, for example, if you're trying to tap a new team sports client, you can build a graphics presentation, then send them a link for review to start the design conversation.
We're always working on new ways to make GraphicsFlow the best possible solution for modernizing your print shop's art department, so keep an eye out for future updates.
Have a suggestion or feedback on something you'd like to see in GraphicsFlow? Let us know here!
Take the Next Step
Get organized, remove the art department bottlenecks, and boost your graphics productivity today.
Book a Personalized Tour
Related Posts: