GraphicsFlow Tips
02 March, 2023
See Inktavo at the 2023 Impressions Expo Atlantic City
02 March, 2023
Impressions Expo Atlantic City is happening soon on March 23 – 25, 2023. It's the perfect place to catch up with Inktavo in person plus network with industry peers! Use this code: EXIV329011 for a free pass into the show.
Who's Inktavo?
Inktavo is the combined force of three brands: GraphicsFlow, InkSoft, and Printavo. We'll be at Booth #246, so put it on your shortlist.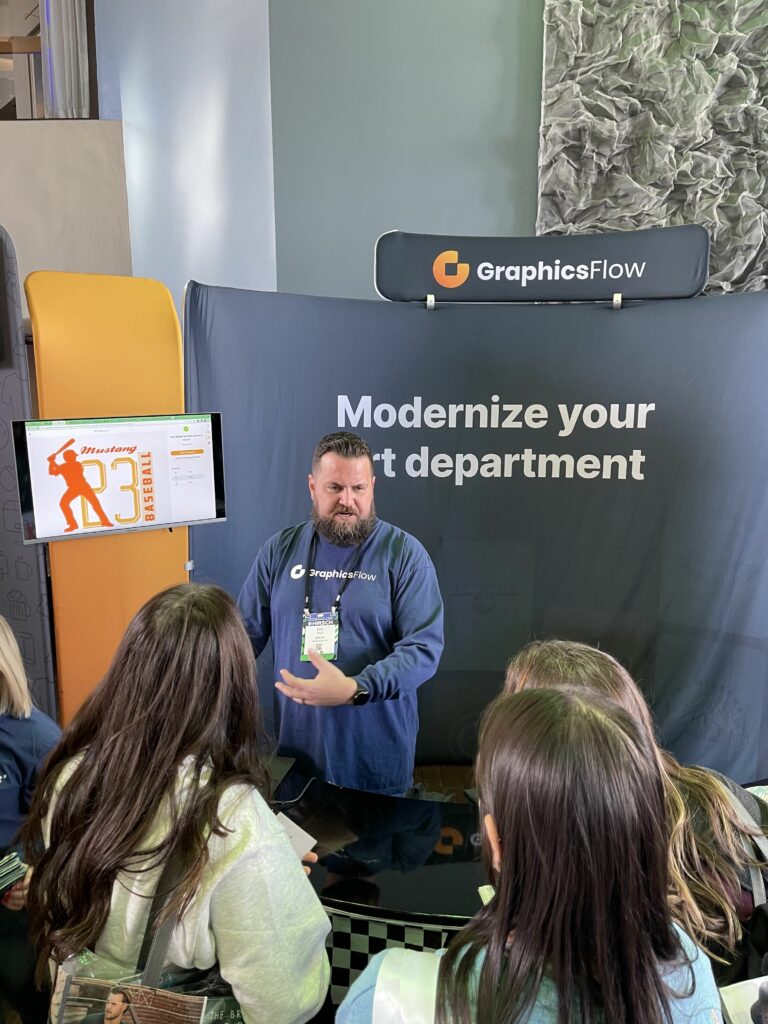 Why should I attend Impressions Expo?
We'll be hosting walkthroughs and can answer all your questions to help you find which solution best fits your shop. And, of course, if you're an existing customer, we'll be there to help you ensure you're getting the most out of your subscription.
We'll also be hosting a class led by Craig Mertens, Director of Product Education at Inktavo, covering the basics of e-commerce for decorated apparel and promotional products. Maximize Your Profitability with an Effective E-commerce Strategy takes place March 23, 1:00-2:15 pm.

Here's how:
Register for Impressions Expo Atlantic City here and use the code EXIV329011 to get in for free.
Once you're registered for the show, use the promo code CRAIG25 to attend Craig's March 23rd class for a discounted rate.
Plus, we'll be demoing some of our exciting new product updates like the Stock Art Customizer. This new tool gives you the ability to edit customer designs in the cloud without additional graphics software like Adobe Illustrator or CorelDRAW.
Additional benefits of Impressions Expo Atlantic City
Impressions Expo is one of the largest tradeshows in the apparel decoration and promotional products industries. It is an excellent place to network with other business owners and a convenient way to see products and equipment in person. You can get detailed information from suppliers and manufacturers in one central location.

Plus, it's a solid educational opportunity for shop owners since there are classes, panel presentations, and other informative events.
Take in the town after Impressions Expo Atlantic City
While in Atlantic City, you can take time after the show to check out the local attractions. Depending on how long you're in town, there's a diverse mix of nightlife, dining, and shopping. And the city has an extensive visitor's guide with suggestions on what to check out.
Maximize your tradeshow time
Tradeshow travel isn't cheap, and it can also be challenging to retain everything you've seen and heard during a busy three-day stretch. Try this approach to make the most out of an industry conference. It'll make bringing those educational experiences home and implementing them at your shop easier.
If you want a refresher course on maximizing your time, try these six tips for getting the most out of your tradeshow visit.
Can't make it to Impressions Expo Atlantic City this year? We can still show you around. Sign up for a GraphicsFlow demo to find out more.
We can't wait to see you at the show!