GraphicsFlow Tips
06 July, 2023
GraphicsFlow Stock Art Customizer: Create Professional Designs in Minutes
06 July, 2023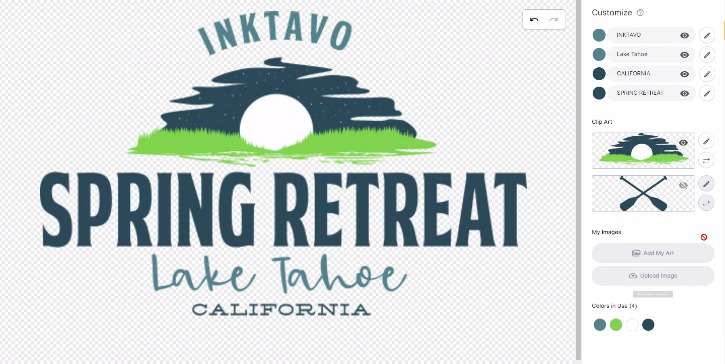 Since the launch of GraphicsFlow, the focus has been to give shops a better way to create, finalize, and streamline art approvals. With the Stock Art Customizer, you get a whole new way to edit and customize graphics for your customers.
Creating customer mockups is even faster and easier since you can edit design templates in the cloud without needing an additional graphics suite like Adobe Illustrator or CorelDRAW.
Here's how to make a T-shirt design with the power of the Stock Art Customizer in under three minutes:
With the power of the Stock Art Customizer, you can go from a simple graphic to a finished customer design in four easy steps.

Here's how:
Choose Your Design
Start by choosing your essential design elements under the "Design Ideas" section of the GraphicsFlow dashboard. You can search by keywords, category, or style to narrow down your needs.


Edit Text
Edit the text in the design template to fit your customer's business or event. You can do this easily and quickly by selecting the various text fields on each design and typing in your desired/updated text. You can also swap out the font in a design template for other options in the library.


Swap Out Clipart
Customize your design further by swapping out clipart elements. You can pull other pieces from the GraphicsFlow Art Library and search by keywords to find the correct components for your customer's design. Consolidate the colors of the clipart so it matches your design literally with the click of a button with the Stock Art Customizer's color selection tool.


Change colors
Tie everything together and build a design that matches your customer's branding by customizing the colors in your design. When you click "view all layers," you'll see all the colors featured in your design. From there, select colors that fit your customer's logo and branding.
Looking for tips on how to create screen printing graphics with the Stock Art Customizer? Check this out.
Check out this video for a full demonstration of all the features in the Stock Art Customizer:
Stock Art Customizer: Built for Print Shops
The Stock Art Customizer features a full complement of effects, unlike other online design tools that use an SVG engine. Whether you're working with multi-layer text effects, complex text envelopes, gradients, masked backgrounds, or weathered overlays, you'll be able to do so inside the platform so you can finalize production-ready graphics and move ahead to printing.
In addition to giving your art department another tool to stay efficient and competitive, the Customizer is a powerful tool for your sales team.

Your entire team can build professional designs for customers quickly and easily without extensive graphic design experience, allowing you to grow your sales and printed merch orders.

Not a GraphicsFlow customer yet? Sign up for a demo today and give your shop a competitive edge with tools like the Stock Art Customizer.