Art Portal, Product Updates, Sales & Marketing Tips
23 November, 2021
EXCITING NEWS: GraphicsFlow Makes Customer Art Selection Easier with Art Portal
23 November, 2021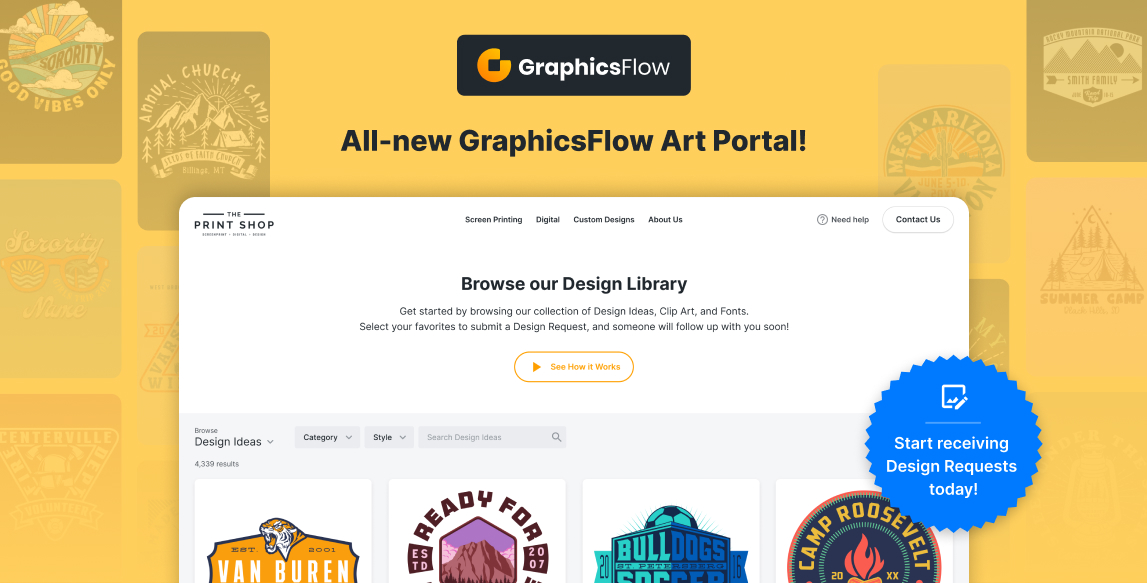 The Art Portal from GraphicsFlow solves industry problems that impact all print businesses. It removes the guesswork and the friction involved in the art process resulting in happier customers and accelerating the sales process to get paid faster. Learn more about this new feature that's one part sales tool and one part art solution.
Artwork is the starting point for all print jobs, but it's also one of the biggest roadblocks for shops. Clients bring you artwork from all different mediums and sources. Then you spend extra time either rebuilding what they gave you or starting from scratch because it's an image that they don't own the rights to. GraphicsFlow has a new feature called Art Portal that fixes this dilemma.
How it works
GraphicsFlow Art Portal is an embeddable art catalog you can easily add to your existing website like the image above. It links customers to the massive design catalog featured in GraphicsFlow and previously only available to business owners. No heavy-duty web tech is needed. Simply copy and paste a premade embed code, and voila, it's on your site for your customers to browse the GraphicsFlow library of more than 25,000 designs.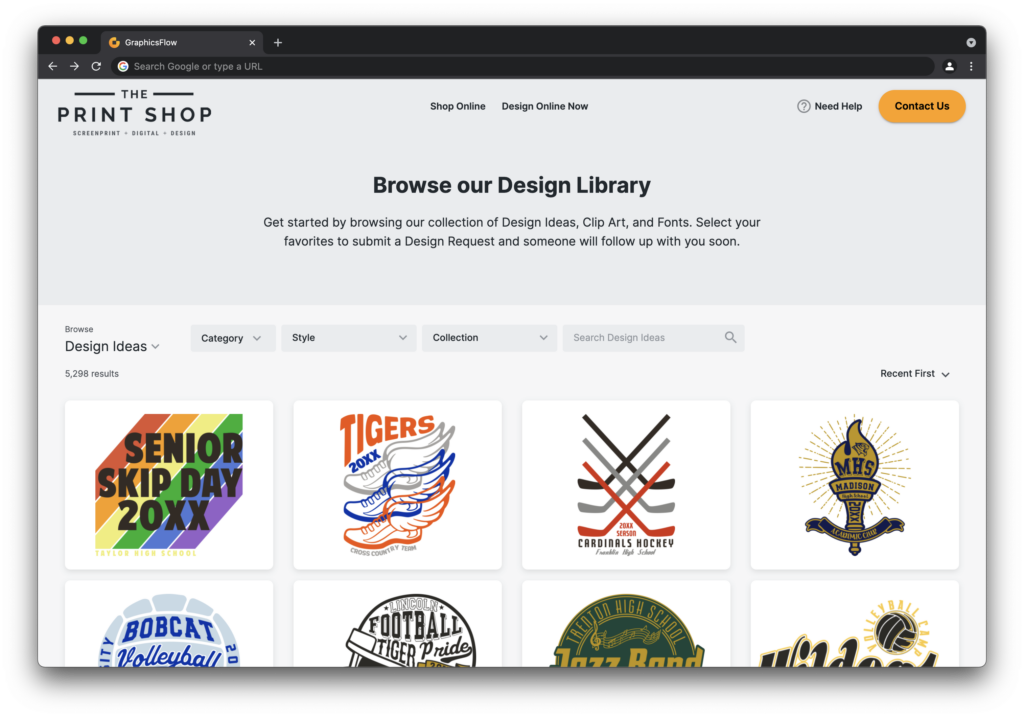 Easy to find everything
GraphicsFlow Art Portal is massive, but it's also easily searchable. Customers can search and filter by designs, clip art, fonts, category, and style to find the perfect design options for their needs. From there, they add those art elements to a design request to submit to your shop.
Customers fill out a contact form, and that information gets sent straight to your shop. And just like that, you've got a new lead.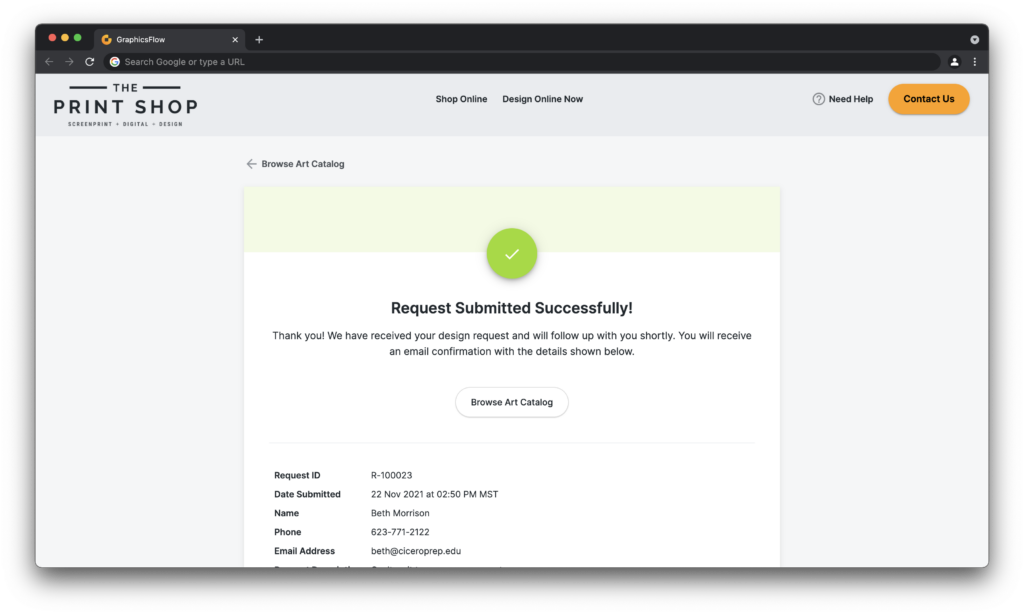 It goes straight to your team
You might be thinking, "yeah, but how is this any different than someone emailing me an artwork request?" There are a couple of big reasons why GraphicsFlow Art Portal is leagues ahead of the usual email attachment process:
When you're logged into GraphicsFlow, you'll have a workspace that shows all your design requests. They stay organized in one section of the platform, so you'll always be able to manage new requests with art approvals in progress.
Customers can add custom notes in their design requests, so you already have one extra conversation out of the way.
GraphicsFlow has multiple built-in features that move design requests directly to the next phase. Download the art, convert it into an art approval, and share notes with your team all inside the platform.
Art submitted through the design request is from GraphicsFlow's catalog, so there's no extra legwork in worrying whether an image is copyrighted or too low-res to use.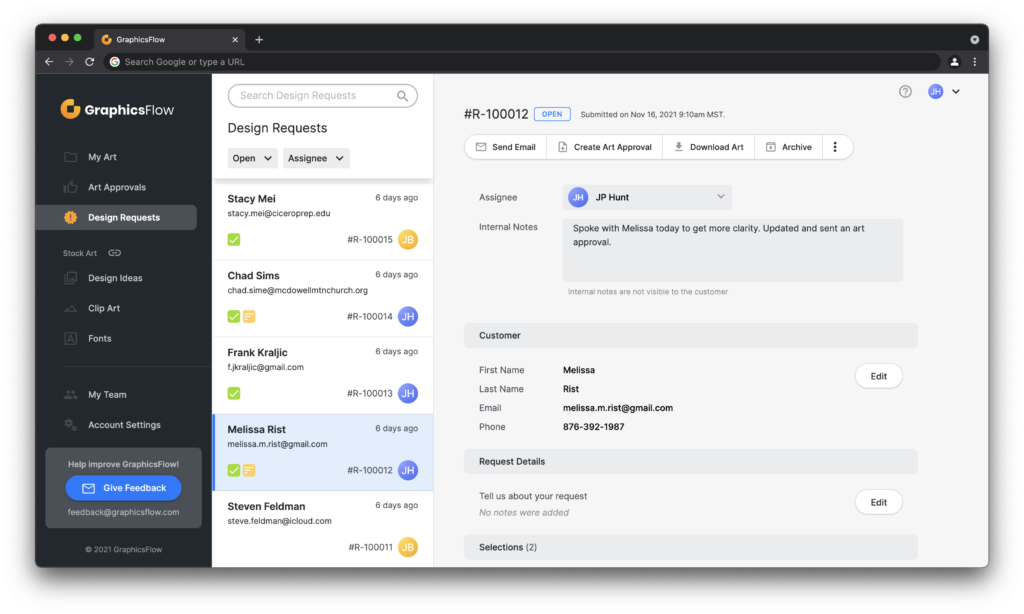 Beat the competition
How often does a customer come to you with a screen shot idea from a third party like CustomInk? Sure, your art team is competent enough to rework the concept and build something your customer likes. But here's the thing; the more work your customer has to do to get to the final design, the more likely they'll just go with another business. In today's online business world, customers are very accustomed to going with the fastest option. By using GraphicsFlow Art Portal, you've got ideas front-and-center that your customers can put together and connect with you quickly. And the GraphicsFlow artwork catalog is packed full of retail-ready, trendy designs sure to spark inspiration with your customers.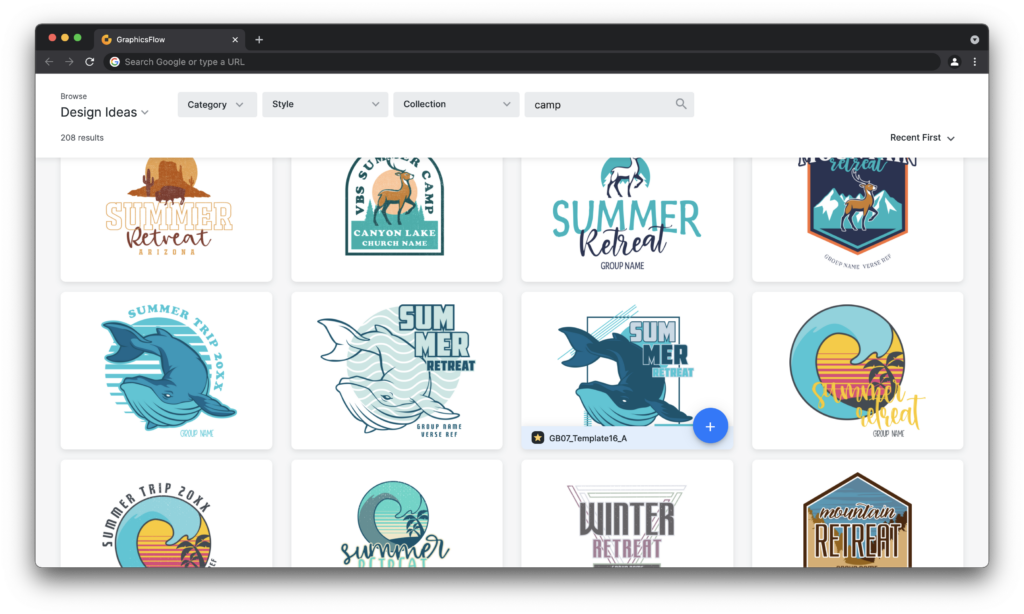 Good for business
The GraphicsFlow Art Portal is a great way to attract new customers, but it's also beneficial to your entire team. Here are a couple of big reasons why it's a reliable resource for your business:
Reduced time and labor on orders. Everyone is stretched thin these days between staffing and working hours. Art Portal speeds up what's usually a time-consuming process so you can keep pumping out orders and sourcing inventory.
Presents your shop as an authority. You're not only giving your customers design options with Art Portal; you're showing them that you're a go-to spot for all their printing needs. That shuts out the competition and keeps you fresh in their mind.
You're in the driver's seat. No more reworking/reinterpreting designs off of Instagram or Etsy or trying to resize blurry images. Customers send you a design that you get to take complete control of from the start to the very final print.
Leverage on pricing. You get the client to commit to the graphics first. This way, they do not focus on pricing. They know if they want those graphics, they need to go through you.
It's a sales tool. You already know that artwork in the custom merch business is directly connected to sales. Since embedding the Art Portal on your site generates instant leads, that's more customers who'll turn into potential sales before you even turn on the presses.
It's customizable. You can add a custom logo, colors, header, and body text so Art Portal has a unique touch that reflects your business's branding.
Do things differently
GraphicsFlow Art Portal is a game-changing technology for graphics collaboration between you and your customers and sales enablement for your team. Customers want the easiest experience possible when making purchases, so give them that option!
The GraphicsFlow Art Portal takes the headaches out of the traditional graphics selection process and puts you in control. With a simple embed code, you can reduce art development costs, grow your customer base, retain your customers, and boost your bottom line.
Ready to see how GraphicsFlow Art Portal can help grow your customer base for 2022? Contact a client-advisor today for a personalized 15-minute tour. Fifteen minutes can change your business.